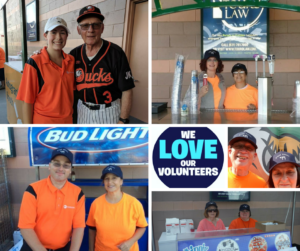 Please contact Joel Silverman to join our volunteer squad for the Long Island Ducks Concession Stands.
Email ducks@bnai-israel.org
Long Island Ducks are gearing up for a full season of baseball beginning in late April. And B'nai Israel is gearing up for its biggest fund-raising opportunity of the year by working at concession stands and earning a 10% commission on all sales of food and beverages.
We have been invited back by Ducks management and contracted to work Saturday and Wednesday evening home games this season. 
Volunteers must be 16 years old and physically able to work on their feet for four or five hours at a time. Cash registers, new last season, are tablet-based and easy to learn and operate. Training is done on-the-job. With an early start and some practice before the game, everyone is ready to go by the time gates open. Uniform tee shirts and hats will be provided.
To see the complete schedule, see below. 
Saturdays
April 23rd
May 7th
May 14th
May 28th
June 4th
June 18th
June 25th
July 2nd
July 23rd
August 13th
August 27th
September 10th
Wednesdays
May 18th
May 25th
June 8th
June 22nd
July 6th
July 13th
July 27th
August 17th
August 31st
September 14th