Rabbi Jessica Rosenthal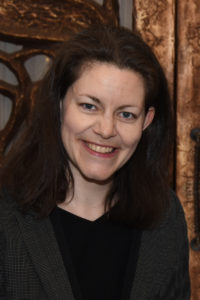 Rabbi Rosenthal grew up in Nashville, Tennessee at congregation Ohabai Shalom. For her undergraduate degree, she attended New College, the honors college of Florida where she graduated with a Bachelor of Arts in Sociology.
In 1999, she moved to Cleveland, Ohio where she worked as an Educator for nine years at The Temple-Tifereth Israel. During this time, she received a Master's Degree in Jewish Education, graduating with Distinction from Siegel College of Jewish Studies. At Siegal, she received the Aaron Intrater Award for excellence in Jewish Education.
Wanting to further explore the connections between education, liturgy, ritual, Torah, and Jewish life, Rabbi Rosenthal entered Rabbinical School in 2008. She served as President of the Rabbinical Student Association, was chosen as one of eight Day School Externs to learn about and advocate for Jewish Day Schools, was selected for a Jewish Foundation Service Learning Fellowship in 2012 wherein she worked with the Jewish Federation to strengthen relationships with congregations and was nominated as a participant for the American Jewish World Service trip to Mexico in January 2010. Upon Ordination, she received the Robert L. Adler Prize for excellence in contributions to the community.
Rabbi Rosenthal became the Rabbi at Temple B'rith Shalom in Prescott, Arizona in 2013.  She worked to make Judaism personal and vibrant for each individual, through one on one conversations, creative study, and personalized life cycle events.  She expanded that sense of community beyond the congregation by creating exchanges with local congregations to come to Shabbat services and in turn visiting their services.  In addition, Rabbi Rosenthal helped to further foster understanding among communities by partnering with lay leaders to enhance social justice initiatives that focused on education and personal stories of minority populations in Prescott, Arizona.
Rabbi Rosenthal, her husband Chad, and children Isaac and Solomon are excited to enter the next stage of their journey at B'nai Israel Reform Temple.
Contact Information:
rabbirosenthal@bnai-israel.org