Rabbi Jessica Rosenthal (she/her)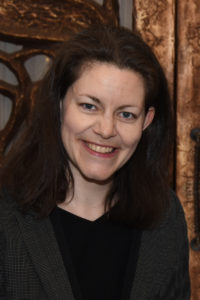 Rabbi Rosenthal grew up in Nashville, Tennessee. For her undergraduate degree, she attended New College, the honors college of Florida, where she graduated with a Bachelor of Arts in Sociology.
In 1999, she moved to Cleveland, Ohio where she worked at Temple-Tifereth Israel as an Educator. During this time, she also received a master's degree in Jewish Education, graduating with Distinction from Siegel College of Jewish Studies. At Siegal, she received the Aaron Intrater Award for excellence in Jewish Education.
Wanting to further explore the connections between education, liturgy, ritual, Torah, and Jewish life, Rabbi Rosenthal entered HUC-JIR Rabbinical School in 2008. She served as President of the Rabbinical Student Association, was chosen as one of eight Day School Externs to learn about and advocate for Jewish Day Schools, was selected for a Jewish Foundation Service Learning Fellowship in 2012 and was nominated as a participant for the American Jewish World Service trip to Mexico in January 2010. Upon Ordination, she received the Robert L. Adler Prize for excellence in contributions to the community.
Rabbi Rosenthal first served as the Rabbi at Temple B'rith Shalom in Prescott, Arizona in 2013. While there, she worked to make Judaism personal, vibrant, and modern focusing on Social Justice, the arts, visioning, interfaith connections and creating meaningful and personal life cycle events.
Rabbi Rosenthal is very excited to be a part of our B'nai Israel Reform Temple family.  She continues to build upon the themes of inclusive welcome by modernizing readings and prayerbooks, (introducing pride shabbat and shabbat tzedek), and advocating for more awareness of what it means to feel welcome.  Throughout the past years she has customized visual slides for tefillah and introduced multimedia engagement.  She continues to build upon relationships and connections through programs like circles and one on one opportunities. And she always finds creative outlets and ways to engage artistically while working to build a stronger social justice presence in the Temple.
In her spare time the Rabbi enjoys reading science fiction, vegetable gardening, and watching and participating in the arts.
Rabbi Rosenthal, her husband Chad, and children Isaac and Solomon live in Hauppauge.
Contact Information:
rabbi@bnai-israel.org